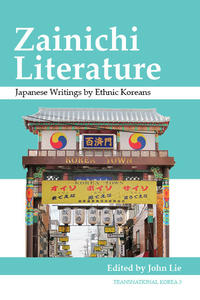 IEAS is pleased to announce the publication of the new edited volume, Zainichi Literature: Japanese Writings by Ethnic Koreans (Transnational Korea 3), edited by John Lie. This collection of translated works highlights a selection of writings in translation by Zainichi (diasporic Koreans in Japan).
The introduction provides an historical overview of Zainichi diasporic identity; the concluding appendix considers the figure of Kin Kakuei and the flourishing Zainichi literature in the 1960s. Authors whose works are translated and appear in this volume include: Kim Saryang, Kim Talsu, Yang Sŏgil, Lee Jungja, Won Soo-il, Oka Masafumi, and Yū Miri. The IEAS Publications portal includes more information about this book, with details on how to order.
Another relevant publication is the December 2018 issue of Cross-Currents: East Asian History and Culture Review on the theme "Diasporic Art and Korean Identity." Cross-Currents is an open-access journal produced jointly by IEAS and the Research Institute of Korean Studies at Korea University.