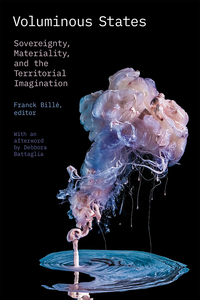 Our own Franck Billé (Program Director for the Tang Center for Silk Road Studies) is the editor of the new edited volume Voluminous States: Sovereignty, Materiality, and the Territorial Imagination (Duke University Press, 2020), with chapter contributions from UC Berkeley faculty (Prof. Aihwa Ong) and graduate students (including Lisa Min).
The volume explores how states are handling maritime rights. From the Arctic to the South China Sea, states are vying to secure sovereign rights over vast maritime stretches, undersea continental plates, shifting ice flows, airspace, and the subsoil. Conceiving of sovereign space as volume rather than area, "Voluminous States" explores the three-dimensional nature of modern territorial governance. In case studies including the Himalayas, Hong Kong, and Korea, the contributors outline how states are using airspace surveillance, maritime patrols, and subterranean monitoring to gain and exercise sovereignty over three-dimensional space. 

The book is available at https://www.dukeupress.edu/voluminous-states as well as all online bookstores.