About
The P.Y. and Kinmay W. Tang Center for Silk Road Studies (TCSRS) was established in 2017 under the auspices of the Institute of East Asian Studies at the University of California, Berkeley, to advance research and teaching on the historical overland and maritime exchange networks commonly referred to as the Silk Roads.
Supported by a generous gift by two branches of the Tang family, Oscar Tang and his wife Agnes Hsu-Tang, who are based in New York City, and Bay Area Berkeley alumnae Nadine Tang and Leslie Tang Schilling, with their brother Martin Tang in Hong Kong.
Named after the parents of Oscar Tang and the grandparents of Nadine, Leslie and Martin, the TCSRS joins the P.Y. and Kinmay W. Tang Center for East Asian Art at Princeton University and the Tang Center for Early China at Columbia University, as centers endowed by the Tang family to promote art historical and archaeological research on China and its neighbors.
By institutionalizing Silk Road studies, the TCSRS aims to transcend longstanding boundaries that have challenged and constricted area studies. To date, few academics have utilized the notion of the Silk Road within the discourse of their research, considering it something of a modern construct rather than an "area" on which to focus. But it is precisely the constructed nature of the Silk Road that makes it such a fertile organizing concept for scholarship: by (constructed) definition, it both permits and encourages trans-national, trans-regional, cross-cultural and cross-disciplinary approaches to research and understanding.
The TCSRS focuses on the material and visual culture of sites scattered throughout China and Central Asia, as well as on manuscripts and objects found in archives and repositories in the United States, Europe and Asia, to foster study of and teaching on the trading networks that, in multifaceted ways, formed a bridge between the cultural and commercial centers of Eurasia.
In geographical terms, the TCSRS concentrates its efforts primarily on the core of the overland Eurasian trading network in Central Asia, here defined as including western China, the former Soviet republics of Uzbekistan, Tajikistan, Kyrgyzstan, Kazakhstan and Turkmenistan, as well as Afghanistan. At the same time, it acknowledges the important role that maritime routes played in connecting China to other parts of Asia and beyond.
The TCSRS aims to advance individual, collaborative and interdisciplinary scholarship through seminars, workshops, conferences, fellowships, and K-12 programming. It plans to develop academic partnerships not only with other UC Berkeley departments and research units but also with national and international educational and cultural institutions to develop initiatives for advancing research and outreach in Silk Road studies.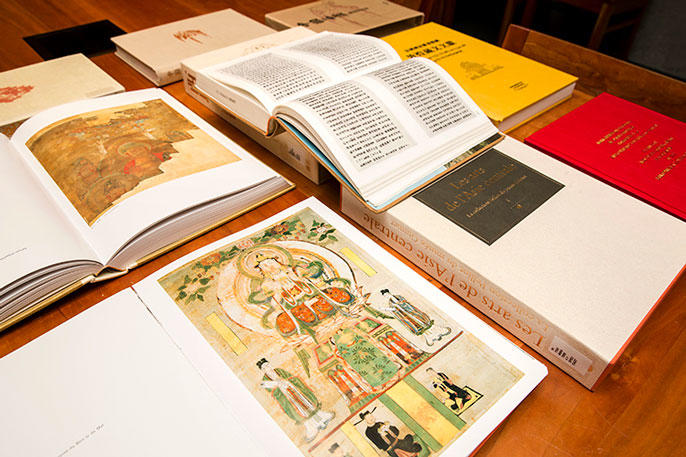 UC Berkeley photo by Brittany Hosea-Small