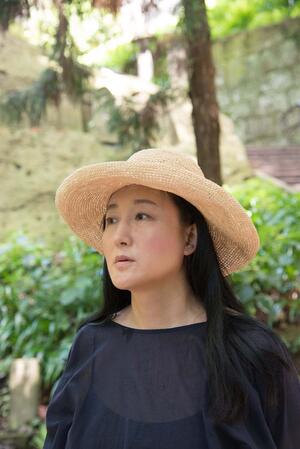 The Center for Japanese Studies welcomes internationally acclaimed novelist, playwright, and essayist YU Miri to the campus as the recipient of the 5th Berkeley Japan Prize for her genre-defying work as an author. YU Miri, a citizen of South Korea, was born in Tsuchiura, Ibaraki, Japan, in 1968 and grew up in Yokohama. Her 1996 novel Family Cinema received the Akutagawa Prize, Japan's most prestigious literary award, in 1997. The English version of her recent novel Tokyo Ueno Station (translated by Morgan Giles) won the 2020 National Book Award for Translated Literature in the U.S. 
The works of Yu Miri have brought critical attention to the challenges of socioeconomic inequality, ethnic discrimination, gender discrimination, and everyday precarities that continue to shape the life of the minoritized and traumatized, while conveying the scale of historical trauma through their intimate focus on the suffering of individuals and families. YU's 2004 novel End of August, whose protagonist was modeled after her marathon runner grandfather, vividly describes the injustice, indignity and hardships that he, his family, and many other Korean people had to suffer during and after the Japanese occupation of Korea. Yu's Tokyo Ueno Station was conceived as a link between the pain of homeless people in Tokyo's Ueno Park, whose families disintegrated after working away from home for too long, and the pain experienced by the evacuees after the Great East Japan Earthquake and the Fukushima Daiichi nuclear power plant accident of March 11, 2011. Many of her recent works trace the beforehand and aftermath of the triple disaster of the earthquake, tsunami, and the Fukushima nuclear accident, through the diverse perspectives of the survivors as well as the deceased.
While YU's books depict harsh realities and the pain of individuals under extreme conditions, underlying her writings is a sense of hope. By advocating for individual freedom and dignity, her books continue to give courage to many people around the world, both young and old, who struggle to survive and fight against social injustice, exclusion, and inequity. She currently lives in Odaka, Minami-soma City in Fukushima, where she runs a bookstore/café called Full House, in the area recovering from the triple disaster.
The CJS Berkeley Japan Prize is a lifetime achievement award from our center given to an individual who has made significant contributions to enriching the understanding of Japan on the global stage.
At the event on September 30 (5:00-6:30PM at the David Brower Center), YU Miri will deliver a short acceptance speech. This will be followed by a conversation with Karen Tei Yamashita, a celebrated Japanese American writer and professor emerita of Literature and Creative Writing at the University of California, Santa Cruz. 
For more information on the event and to register, please click here. 
---
柳美里氏がカリフォルニア大学バークレー校日本研究センターから「バークレー日本賞」を受賞
カリフォルニア大学バークレー校日本研究センターでは、国際的に著名な作家である柳美里氏を、第5回バークレー日本賞の受賞者としてキャンパスに迎え、2022年9月30日に授賞式(招待者限定)を行います。授賞式に先立ち、同日午後5時~7時には、カリフォルニア在住の日系三世アメリカ人作家として著名なカレン・テイ・ヤマシタ氏との対談が、一般公開で行われます。
柳美里氏は、1968年、茨城県生まれ、神奈川県育ち。1996年に発表した「家族シネマ」は、翌年に第116回芥川賞を受賞。2014年に出版された『JR上野駅公園口』は、Tokyo Ueno Stationというタイトルで2019年にモーガン・ジャイルズ氏によって英訳され、全米図書賞翻訳部門を受賞しています。
日本に生まれ韓国籍である柳美里氏の作品の多くは、民族的・文化的マイノリティや経済的・社会的弱者の視点から、経済格差、民族差別、性差別をはじめとする近現代社会の矛盾を鋭く指摘するとともに、家族や社会の中で孤立した個人の心理的葛藤とトラウマ、その歴史的背景を大胆な筆致で描き出しています。数多い作品の中でも、2004年に出版された長編小説『8月の果て』は、日本統治下の朝鮮で生まれた柳氏の祖父とその周辺の人々をモデルとして、日々の生活と、彼らが直面した不正義と不条理、苦難を、作中のさまざまな人物の視点から描きました。全米図書賞翻訳部門を受賞した『JR上野駅公園口』は、東日本大震災とそれに伴う福島第一原子力発電所の事故で避難生活を余儀なくされた人々の痛苦と、出稼ぎで郷里を離れているうちに帰るべき家を失くしたホームレスの方々の痛苦、という二者の痛みをつなげる小説として構想され、その英訳版は海外で高い評価を受けています。
柳美里氏の作品には、厳しい現実や極限状況に置かれた人々の描写が多いにもかかわらず、その根底には希望があり、個人の自由を尊重する多様性・公平性・包括性のある社会の構築にむけて、日本から世界に力強いメッセージを発信し続けています。柳氏は、2018年より福島県南相馬市小高区にブックカフェ「フルハウス」をオープンし、地元の方々と交流を重ねています。
バークレー日本賞は、カリフォルニア大学バークレー校日本研究センターが、生涯を通して世界における日本の理解に重要な貢献を行ってきた方に贈呈する賞です。この賞は、日本研究センター設立50周年を記念して2008年に創設され、数年に一回の頻度で受賞を行っています。これまでの受賞者は、作家の村上春樹氏(2008年)、映画監督の宮崎駿氏(2009年)、音楽家の坂本龍一氏(2013年)、物理学者の梶田隆章氏(2017年)です。
カリフォルニア大学バークレー校日本研究センターは、日本に関する研究と教育に関わっているさまざまな学科を横断する研究ユニットとして、1958年に設立されました。センターのメンバーは、東アジア言語文学科、比較文学科、政治学科、歴史学科、人類学科、社会学科、美術史学科、音楽科、物理学科などに所属する、日本の研究・教育を行う教員45名(内、コア・メンバーは17名)であり、その活動には、30名を超える日本研究の大学院生が積極的に関わっています。センターでは、研究費助成などを通じて教員と大学院生の日本研究活動を支援するとともに、日本に関する講演会、ワークショップ、シンポジウムなどをオンラインと対面の両者で頻繁に開催し、各国から訪問研究者やポスドクを受け入れて、世界における日本研究のさらなる発展を目ざしています。
Last updated September 23, 2022