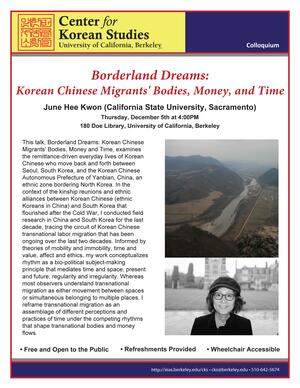 Thursday, December 5 (4:00 p.m.)
Borderland Dreams: Korean Chinese Migrants' Bodies, Money, and Time
June Hee Kwon (California State University, Sacramento)
Location: Room 180, Doe Library, UC Berkeley

Summary: This talk, Borderland Dreams: Korean Chinese Migrants' Bodies, Money and Time, examines the remittance-driven everyday lives of Korean Chinese who move back and forth between Seoul, South Korea, and the Korean Chinese Autonomous Prefecture of Yanbian, China, an ethnic zone bordering North Korea. In the context of the kinship reunions and ethnic alliances between Korean Chinese (ethnic Koreans in China) and South Korea that flourished after the Cold War, I conducted field research in China and South Korea for the last decade, tracing the circuit of Korean Chinese transnational labor migration that has been ongoing over the last two decades. Informed by theories of mobility and immobility, time and value, affect and ethics, my work conceptualizes rhythm as a bio-political subject-making principle that mediates time and space, present and future, regularity and irregularity. Whereas most observers understand transnational migration as either movement between spaces or simultaneous belonging to multiple places, I reframe transnational migration as an assemblage of different perceptions and practices of time under the competing rhythms that shape transnational bodies and money flows.

Bio: Dr. June Hee Kwon is a cultural anthropologist who joins the Asian Studies Program as an Assistant Professor. Her research focuses on transnational migration and development, gendered labor and class formation, ethnic/national conflict and reconciliation, and humanitarianism and human rights. Her area of expertise spans contemporary Korea (North and South), China, and Japan, and includes postcolonial and post-Cold War interconnections and political economy across the East Asia/Pacific Rim region. She received her Ph.D. from the Department of Cultural Anthropology at Duke University. Prior to joining California State University Sacramento, she was an Assistant Professor/Faculty Fellow in the Department of East Asian Studies at New York University and a Postdoctoral Fellow at the University of Pittsburgh.
Thursday, November 14 (4:00 p.m.)
How to Claim a Migrant: Koreans, Borders, and Belonging at the Edge of Asia and Russia
Alyssa Park (University of Iowa)
Location: Room 180, Doe Library, UC Berkeley

Summary: In the late nineteenth century, Koreans suddenly began to cross the border to Russia and China by the thousands. Their continuous mobility and settlement in the tripartite borderland made them an enduring topic of dispute between multiple countries (Korea, Russia, China, and Japan), and prompted a host of questions that concerned fundamental questions about states' governance over people: Which country had the right to exercise authority over mobile people and where? Who possessed the right to control their movements? This talk brings the global phenomena of mobility and bordermaking into the microspace of Korea's borderlands—specifically, the Maritime, the Russian side of a newly delineated border. Moving away from scholarly debates centering on disputes over territory, this talk focuses on contests over people. It examines why Koreans moved, what officials thought of them, and how they attempted to claim Koreans in their own states. It also illuminates questions that emerge from engaging in transnational history projects in the East Asia and Russia contexts. The talk draws from Alyssa Park's recently published book, Sovereignty Experiments: Korean Migrants and the Building of Borders in Northeast Asia, 1860-1945.

Bio: Alyssa Park is Associate Professor of History at the University of Iowa. Her research focuses on migration, borderlands, and transnational history in Korea and northeast Asia, including Russia. She recently published the book Sovereignty Experiments: Korean Migrants and the Building of Borders in Northeast Asia, 1860-1945 (Cornell University Press, 2019). Dr. Park received her A.B. from Princeton University and Ph.D. from Columbia University.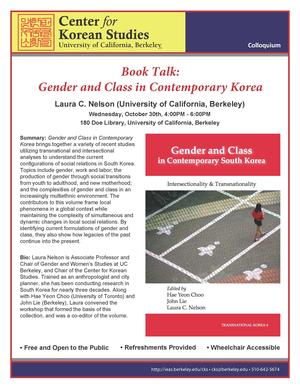 Wednesday, October 30 (4:00 p.m.)
Book Talk: Gender and Class in Contemporary Korea
Laura C. Nelson (University of California, Berkeley)
Location: Room 180, Doe Library, UC Berkeley

Summary: Gender and Class in Contemporary Korea brings together a variety of recent studies utilizing transnational and intersectional analyses to understand the current configurations of social relations in South Korea. Topics include gender, work and labor; the production of gender through social transitions from youth to adulthood, and new motherhood; and the complexities of gender and class in an increasingly multiethnic environment. The contributors to this volume frame local phenomena in a global context while maintaining the complexity of simultaneous and dynamic changes in local social relations. By identifying current formulations of gender and class, they also show how legacies of the past continue into the present.

Bio: Laura Nelson is Associate Professor and Chair of Gender and Women's Studies at UC Berkeley, and Chair of the Center for Korean Studies. Trained as an anthropologist and city planner, she has been conducting research in South Korea for nearly three decades. Along with Hae Yeon Choo (University of Toronto) and John Lie (Berkeley), Laura convened the workshop that formed the basis of this collection, and was a co-editor of the volume.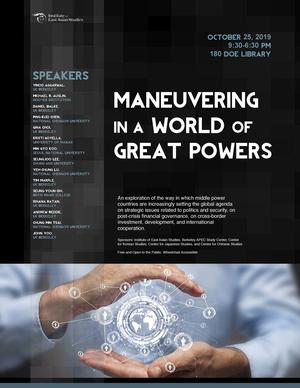 Friday, October 25 (9:30 a.m.)
Maneuvering in a World of Great Powers
Location: Room 180, Doe Library, UC Berkeley
Co-Sponsor/s: Institute of East Asian Studies, Center for Japanese Studies, Center for Chinese Studies, Berkeley APEC Study Center

Speaker/s: Vinnie Aggarwal, Michael R. Auslin, Daniel Balke, Ping-Kuei Chen, Gina Choi, Simon Evenett, Kristi Govella, Min Gyo Koo, Seungjoo Lee, Yeh-Chung Lu, Tim Marple, Seung-Youn Oh, Ishana Ratan, Andrew Reddie, Chung Min Tsai, John Yoo

Summary: An exploration of the way in which middle power countries are increasingly setting the global agenda on strategic issues related to politics and security, on post-crisis financial governance, on cross-border investment, development, and international cooperation.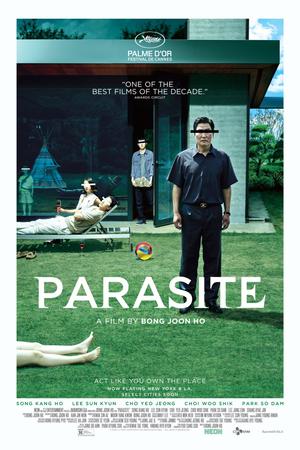 Saturday, October 19 (9:30 p.m.)
Film Screening: Bong Joon Ho's PARASITE
Location: AMC Kabuki 8 (1881 Post Street, San Francisco)

Promotional Partnership with NEON. Additional support provided by GoldOpen.

Synopsis (from the film website): Meet the Park Family: the picture of aspirational wealth. And the Kim Family, rich in street smarts but not much else. Be it chance or fate, these two houses are brought together and the Kims sense a golden opportunity. Masterminded by college-aged Ki-woo, the Kim children expediently install themselves as tutor and art therapist, to the Parks. Soon, a symbiotic relationship forms between the two families. The Kims provide "indispensable" luxury services while the Parks obliviously bankroll their entire household. When a parasitic interloper threatens the Kims' newfound comfort, a savage, underhanded battle for dominance breaks out, threatening to destroy the fragile ecosystem between the Kims and the Parks. By turns darkly hilarious and heart-wrenching, PARASITE showcases a modern master at the top of his game.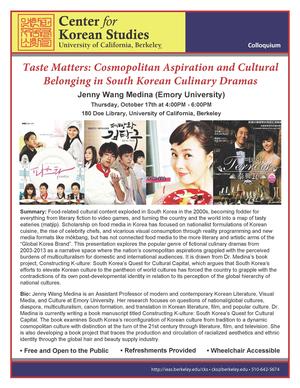 Thursday, October 17 (4:00 p.m.)
Taste Matters: Cosmopolitan Aspiration and Cultural Belonging in South Korean Culinary Dramas
Jenny Wang Medina (Emory University)
Location: Room 180, Doe Library, UC Berkeley

Summary: Food-related cultural content exploded in South Korea in the 2000s, becoming fodder for everything from literary fiction to video games, and turning the country and the world into a map of tasty eateries (matjip). Scholarship on food media in Korea has focused on nationalist formulations of Korean cuisine, the rise of celebrity chefs, and vicarious visual consumption through reality programming and new media formats like mŏkbang, but has not connected food media to the more literary and artistic arms of the "Global Korea Brand". This presentation explores the popular genre of fictional culinary dramas from 2003-2013 as a narrative space where the nation's cosmopolitan aspirations grappled with the perceived burdens of multiculturalism for domestic and international audiences. It is drawn from Dr. Medina's book project, Constructing K-ulture: South Korea's Quest for Cultural Capital, which argues that South Korea's efforts to elevate Korean culture to the pantheon of world cultures has forced the country to grapple with the contradictions of its own post-developmental identity in relation to its perception of the global hierarchy of national cultures.

Bio: Jenny Wang Medina is an Assistant Professor of modern and contemporary Korean Literature, Visual Media, and Culture at Emory University. Her research focuses on questions of national/global cultures, diaspora, multiculturalism, canon formation, and translation in Korean literature, film, and popular culture. Dr. Medina is currently writing a book manuscript titled Constructing K-ulture: South Korea's Quest for Cultural Capital. The book examines South Korea's reconfiguration of Korean culture from tradition to a dynamic cosmopolitan culture with distinction at the turn of the 21st century through literature, film, and television. She is also developing a book project that traces the production and circulation of racialized aesthetics and ethnic identity through the global hair and beauty supply industry.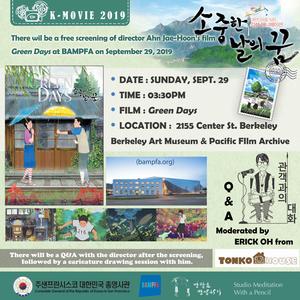 Sunday, September 29 (3:30 p.m.)
Film Screening: Ahn Jae-Hoon's Animated Film "Green Days"
Jae-Hoon Ahn (Meditation with a Pencil)
Location: Berkeley Art Museum & Pacific Film Archive (2155 Center Street, Berkeley)

Promotional Partnership with the Consulate General of the Republic of Korea in San Francisco and the Berkeley Art Museum & Pacific Film Archive.

Summary: As suggested by the name of Ahn Jae-hoon's animation studio, Meditation with a Pencil, his first feature film—part of a trilogy, which he describes as "a fantasy story for all the children and those who once were"—began with all of the initial drawings done by hand. This warmhearted coming-of-age story is set in a rural town in the early 1980s, the period of the director's "green days" of youth as well. A high school girl, Yi-rang, dreams of being an athlete, but finds herself stumbling after she loses a relay race. She meets Cheol-soo, who is determined to be an astronaut—he even builds a flying machine—and the intimidating Soo-min, who has relocated from Seoul. The transitions and changes the teenagers undergo are echoed in the setting, a small town during a period of modernization, when neighborhoods are being torn down, erasing the past.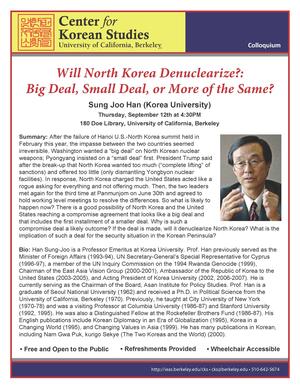 Thursday, September 12 (4:30 p.m.)
Will North Korea Denuclearize?: Big Deal, Small Deal, or More of the Same?
Sung Joo Han (Korea University)
Location: Room 180, Doe Library, UC Berkeley

Summary: After the failure of Hanoi U.S.-North Korea summit held in February this year, the impasse between the two countries seemed irreversible. Washington wanted a "big deal" on North Korean nuclear weapons; Pyongyang insisted on a "small deal" first. President Trump said after the break-up that North Korea wanted too much ("complete lifting" of sanctions) and offered too little (only dismantling Yongbyon nuclear facilities). In response, North Korea charged the United States acted like a rogue asking for everything and not offering much. Then, the two leaders met again for the third time at Panmunjom on June 30th and agreed to hold working level meetings to resolve the differences. So what is likely to happen now? There is a good possibility of North Korea and the United States reaching a compromise agreement that looks like a big deal and that includes the first installment of a smaller deal. Why is such a compromise deal a likely outcome? If the deal is made, will it denuclearize North Korea? What is the implication of such a deal for the security situation in the Korean Peninsula?

Bio: Han Sung-Joo is a Professor Emeritus at Korea University. Prof. Han previously served as the Minister of Foreign Affairs (1993-94), UN Secretary-General's Special Representative for Cyprus (1996-97), a member of the UN Inquiry Commission on the 1994 Rwanda Genocide (1999), Chairman of the East Asia Vision Group (2000-2001), Ambassador of the Republic of Korea to the United States (2003-2005), and Acting President of Korea University (2002, 2006-2007). He is currently serving as the Chairman of the Board, Asan Institute for Policy Studies. Prof. Han is a graduate of Seoul National University (1962) and received a Ph.D. in Political Science from the University of California, Berkeley (1970). Previously, he taught at City University of New York (1970-78) and was a visiting Professor at Columbia University (1986-87) and Stanford University (1992, 1995). He was also a Distinguished Fellow at the Rockefeller Brothers Fund (1986-87). His English publications include Korean Diplomacy in an Era of Globalization (1995), Korea in a Changing World (1995), and Changing Values in Asia (1999). He has many publications in Korean, including Nam Gwa Puk, kurigo Sekye (The Two Koreas and the World) (2000).